Sign up today for Summer 2017!
About East Sailing Academy
The EAST Sailing Academy introduces children and teens to small boat sailing and racing. Young sailors learn in three groups:

Mariners 9-11 yrs
Explorers 11-13 yrs
Voyagers 13-16 yrs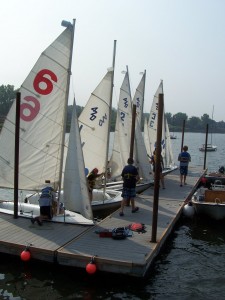 The program is taught aboard a fleet of over twenty vessels ranging in size from 13 – 24 feet. Beginner and experienced sailors have fun and are challenged through skill advancement in the EAST Sailing Academy Log Book. Day trips, water fights, Pizza Day, fun awards and sailing games are always in the forecast at Croton Sailing School's EAST Sailing Academy!
Explore the EAST Sailing School's Prezi presentation to get a taste of what your experience will be like at sailing camp! Click Here
The student to instructor ratio of the sailing school is a maximum of six students per instructor. Groups are formed by age and sailing experience. EAST Sailing Academy students are aged 9-16. Each group is assigned its own instructor(s) to provide consistency and personal attention.
Top Gun Program: Each week the best sailors are selected from each group to participate in spirited regattas (racing) aboard the East Sailing Academy's fleet of 420's.
Youth Program Fleet: Primary instruction is provided aboard 420's, 15' Cape Cod Mercury's, and 24' Rainbows. The EAST Sailing Academy is unique in its ability to offer both small and large boat experience. Safety: Program participants are required to wear a Personal Flotation Device (PFD) at all times while on the docks or on board the boats. Instructors are trained in sailing safety and safe sailing practices are stressed at all times.