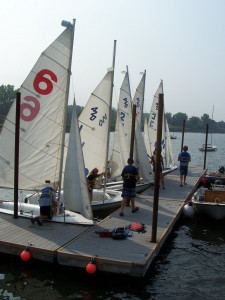 420s
The International 420 Class Dinghy is noted for its agility and speed thus making it a challenging and fun youth trainer. The name describes the overall length of the boat in centimeters (the boat is exactly 4.2 meters long). The hull is fiberglass with internal buoyancy tanks. The 420 is equipped with spinnaker and optional trapeze, making teamwork necessary to sail it well. It has a large sail-area-to-weight ratio, and is designed to plane easily.

Cape cods
Cape Cod Mercuries are 15' fiberglass keel boats with a main and jib. Used as a training boat by many sailing programs, the Cape Cod Mercury meets the need for novice and well seasoned sailors. She has cockpit space for five but can easily be sailed with two. The Cap Cod Mercuries are stable and yet responsive creating an excellent vessel for our beginner and intermediate youth sailors.
The Rainbows
Designed to train Midshipman at the Naval Academy, the Rainbow is the perfect boat to learn on. Responsive in a wide variety of wind conditions, these 24 footers are a joy to sail. The 1200 lb. keel insures that they will be forgiving of the mistakes made by first timers, and the tiller steering and the large sail area makes it a lively sloop to sail. These day-sailors are used for our Basic Hands-On Course and Practice Sails. The Rainbows are also available for Private Lessons, Captained Charters and for use in the Croton Sailing Club.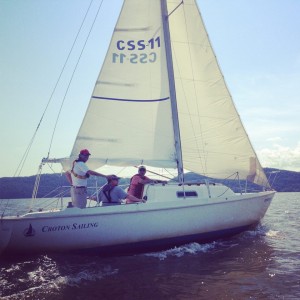 The Pearsons
Our 26' Pearsons are "weekenders" or "pocket-cruisers." They carry 9 horse power outboards, so you can take off to explore greater reaches of the Hudson without having to worry what to do if the wind dies. The Pearsons are a great step up from the Rainbow. The Pearsons are used on our Coastal Cruising Course, Private Lessons, Captained Charters and for use in the Croton Sailing Club.